Celebrating APP Awards of Excellence
MSK's advanced practice providers (APPs) display a high level of commitment and professionalism every day, but some demonstrate such exceptional dedication to their patients and colleagues that they deserve special recognition. 2020 marks the first year that their efforts are being honored at MSK with the APP Awards of Excellence, a new initiative developed by the Physician Assistant and Nurse Practitioner Councils.
The awards recognize individuals who exemplify MSK's core values and excel in the areas of outstanding patient care, education, mentorship, professional advocacy, humanitarian service, and collaboration.
"The most impressive thing has been all of the work the nominators did to produce such an outstanding list of candidates from among more than 900 APPs employed across the institution, and then having the challenge of determining only one winner in each of the categories," says Aaron Begue, nurse practitioner and Executive Director of Advanced Practice Providers. "I'm really proud and excited to see this grow in the future."
There was an enthusiastic response from physicians, nurses, and APPs across MSK to the call for nominations acknowledging APPs who have gone above and beyond as top achievers in the field. The winners were selected from among 41 nominees by a committee comprised exclusively of APPs.
The inaugural group of six award recipients was announced at a virtual ceremony on December 7 that was hosted by physician assistant Caitlin Giles and nurse practitioner Stacey Cuomo. It included tribute video honoring each of the winners with moving messages from numerous colleagues who congratulated them for their well-deserved recognition. 
Here's an overview of this year's winners and their work at MSK:
Deborah Diotallevi, nurse practitioner, MSK Kids; APP manager, Pediatric Ambulatory Care Center: Excellence in Precepting and Mentorship Award
The Excellence in Precepting and Mentorship Award is given to an individual who has shown outstanding dedication to their role as a mentor and/or preceptor to APP students, fellows, and new hires and has gone above and beyond to cultivate a meaningful relationship with their mentees.
Ms. Diotallevi's nominators agree that this award "encapsulates her hard work and outstanding dedication to her patients and colleagues at MSK Kids and the entire institution." She has been part of the MSK family for more than 32 years and has excelled in her roles as a pediatric staff nurse, pediatric IV nurse, APP in the Lymphoma Service, and currently as an APP on the Pediatric Long-Term Follow Up team. In each role, she has been a teacher, mentor, and role model. An acclaimed speaker and published author on pediatric cancer survivorship, she consistently makes education a priority, volunteering to have APP students complete their pediatric experience under her guidance, and preparing them in advance for the most comprehensive and successful experience.
Ms. Diotallevi's colleagues have noted her enthusiasm, dedication, and passion for helping the next generation love nursing as much as she does. Her clinical knowledge and eagerness to share and teach is the reason that many of the fellows who have graduated continue to keep in touch and use her as a career resource.
Her peers are especially grateful for Ms. Diotallevi's remarkable contributions during the peak of the COVID-19 pandemic earlier in 2020. She provided the pediatric clinical community with guidance and support to make clinical decisions, encouraged the development of new and better models of care, and helped operationalize several critical practice changes.
"It has been my professional passion to work at MSK Kids. I'm incredibly honored to have been nominated for this award and feel humbled to have been selected," says Ms. Diotallevi. "I look forward to continue working with all my fellow APPs and MSK Kids family."
Kelly Haviland, nurse practitioner and APP Manager of Professional Development, Supportive Care Medicine Service: Excellence in Professional Advocacy 
The Excellence in Professional Advocacy Award is given to an individual who represents and/or speaks on behalf of their profession within the healthcare system at either or both the state and national level.
Dr. Haviland has worked hard to bring the APP role to the forefront in the care of lesbian, gay, bisexual, transgender, and queer (LGBTQ) people with cancer. She has been a trailblazer in advocating on behalf of LGBTQ patients at MSK and beyond. As Co-chair of MSK's LBGTQ Clinical Advisory Committee, she has helped develop a consult service to address clinical issues and support education for practitioners. She has also presented throughout MSK, educating staff on the healthcare disparities that LGBTQ patients with cancer face and providing recommendations for improving care. 
On a national level, Dr. Haviland has served on panels focused on LGBTQ population health and disparities organized by groups like GLMA (formerly known as the Gay and Lesbian Medical Association). Her representation in this work is paramount as many LGBTQ patients are cared for by APPs, particularly in the primary care setting.
Additionally, Dr. Haviland has developed APP education initiatives at MSK, including an APP orientation program, an APP career ladder program, and an APP-led ventilator-weaning project among prolonged mechanically ventilated patients. These efforts have had widespread implications and Dr. Haviland ensures such work is disseminated nationally.  
"Her commitment to representing APPs at MSK, nationally, and even internationally extends beyond her unwavering advocacy for LGBTQ persons," said one of her nominators.
"I'm thrilled to receive this award because I think that all APPs at MSK are just this — professional advocates," says Dr. Haviland. "I don't think I would be receiving this award if there weren't so many amazing APPs at our institution."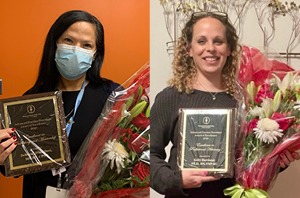 Beatrice Huste, Inpatient Critical Care Physician Assistant, PACU: Excellence in Humanitarian Service
The Excellence in Humanitarian Service Award goes to someone who has shown dedication to exceptional humanitarian service in the healthcare environment in local, national or international communities, including through volunteer efforts. 
Ms. Huste has been at MSK since 1998. She is famously known as the first-ever night-shift APP in the PACU and is credited with having laid the foundation for the successful development of the current PACU APP team. Her colleagues applaud her consistent excellence on the night shift, where she provides high-quality care to her patients and leadership to a loyal team of coworkers.
While Ms. Huste's professional achievements deserve recognition, her personal accomplishments are equally extraordinary. She has devoted considerable time working to improve the lives of autistic children and their families on Long Island. Inspired by her two sons who were diagnosed with autism, she created the EJ Autism Foundation in 2007. Since then, she has worked tirelessly as a fierce, self-sacrificing advocate for families affected by autism and has supported community programs and services to enhance their lives. 
"Ms. Huste is the heart behind her foundation's continued success, and I praise her for her humanity, care, and perseverance," said her nominator. "Her contributions to the betterment of people in need are accomplishments worthy of recognition." 
"I couldn't be more grateful to be in this company of extraordinary nominees and am moved by this lovely accolade," says Ms. Huste. "There are few things more meaningful than being recognized by your peers. This inspires me in my work, personally, and at MSK."
Anthony Lumbad, physician assistant, Pulmonary Service: Excellence in Clinical Practice 
The Excellence in Clinical Practice Award is given to an individual dedicated to expertly providing exceptional, high-quality patient care.
Mr. Lumbad is regarded as a compassionate, highly professional clinician with a sharp clinical acumen and superb judgement in the management of people with complex pulmonary diseases, who is determined to provide the best care for his patients.
He is described as a role model not only to other APPs on the service, but to nurses and physicians as well. Known as a valuable clinical resource to his colleagues, he is appreciated as a team player and advocate for his peers. As former committee lead and current member of the APP division of MSK's Quality Improvement and Research Subcommittee, he offers guidance and resources for APPs conducting academic research and quality improvement projects.  
Mr. Lumbad has made numerous contributions to the Pulmonary Service, including the development of a formal orientation program for newly hired APPs and the implementation of a more efficient patient sign-out process that has improved continuity of care.
According to his nominator, "Mr. Lumbad has the gift of leadership, but more importantly, he has a true heart of an MSK caregiver. His expertise and clinical skills go hand in hand with the compassionate care he provides to our patients."
"Thank you for this award," said Mr. Lumbad at the virtual awards ceremony. "It's so gratifying to be recognized by the institution among such an incredible group of APPs."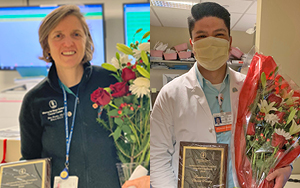 Vivek Malhotra, Chief, Anesthesia Pain Service: Collaborative Champion Award
The Collaborative Champion Award recognizes a collaborative member of the care team — physician, nurse leader, or other clinician — who values and supports the role of the APP within the healthcare system.
More than twenty APPs from across MSK who work on the Anesthesia Pain Service (APS) nominated Dr. Malhotra. His nomination reflects a multitude of APP team accomplishments in the APS that are due in part to Dr. Malhotra's great support for and trust in the APPs on his service and his respect for their profession.
Dr. Malhotra has spearheaded APP programs to optimize clinical practice and patient care and improve collaboration across multidisciplinary platforms. He has driven several quality improvement initiatives, including an independent post-operative and chronic pain service run by APPs that provides 24/7 acute and chronic pain management. 
Dr. Malhotra promotes respectful collaboration and equality among physicians and APPs in the Anesthesia Pain Service and across MSK. He appreciates the views, ideas, and opinions of frontline APPs on his team, using what he has learned to advocate for APPs among his medical colleagues.
He has collaborated on multiple institutional projects that have impacted APPs, including an APP-run telemedicine project. Dr. Malhotra also advocated to have an APP presence in the outpatient pain clinics at MSK's regional sites. There are now APPs caring for patients in New Jersey — MSK Basking Ridge, MSK Bergen, and MSK Monmouth — and at MSK Commack and MSK Westchester.
In the arena of education and research, Dr. Malhotra has encouraged and supported many APPs to pursue the highest level of education in their field, assisted APPs in obtaining IRBs to pursue research endeavors, and endorsed APPs in the pursuit of leadership roles.
"Dr. Malhotra is the embodiment of a collaborative champion, mentor, and a true friend to APPs throughout the institution," noted one of his nominators.
"APPs have taught me that collaboration is the surest way to guarantee success and create meaningful change," says Dr. Malhotra. "I am truly honored to work with such remarkable colleagues and remain in disbelief of having won this award, given how incredible the other nominees were. There must be a bag of uncounted absentee ballots somewhere!"
Deborah Stein, critical care nurse practitioner, Intensive Care Unit: Excellence in Education Award
The Excellence in Education Award goes to an individual who supports professional growth for APPs and consistently demonstrates an interest in the development of APP clinical knowledge and education at MSK.
According to her nominator, "Ms. Stein has made an indelible impact on APP education at MSK." As an education specialist in the Intensive Care Unit (ICU), she was instrumental in establishing a comprehensive orientation program to train and mentor newly hired APPs. She also created the Critical Care Center Education Committee and worked with its members to successfully launch the Quarterly APP Oncology and Critical Care Education Series for critical care APPs in the ICU, Stepdown Unit (SDU), Neuro Advanced Care Unit (NACU), and Post-Anesthesia Care Unit (PACU).
Additionally, Ms. Stein developed and directed a successful and competitive Critical Care APP Fellowship and collaborated with multiple departments to launch the Perioperative and Specialized Care and Pediatric APP Fellowships. She also served as a mentor for RNs through the hospital-wide nursing mentorship collaborative.
Ms. Stein is widely acclaimed for her efforts to mentor RNs through the hospital-wide nursing mentorship collaborative as well as for her work in the Department of Psychiatry. She became a facilitator for the COMSKIL program, helping to guide and improve clinician communication with patients and families. She worked with the department to include APPs in the program, which was traditionally only offered to RN and physician staff.
Ms. Stein's peers consider her a role model for other APPs, and appreciate her patience, competence, and willingness to help in any situation, noting that she consistently steps up to meet any challenge. During the height of the COVID-19 pandemic in the spring of 2020, Ms. Stein developed comprehensive critical care materials as a valuable resource to help educate non-critical care providers who were reassigned to care for patients in the ICU.
"It has been a true honor to work here and to have collaborated on all of these efforts," says Ms. Stein. "I hope we continue to support and develop APP education at MSK."