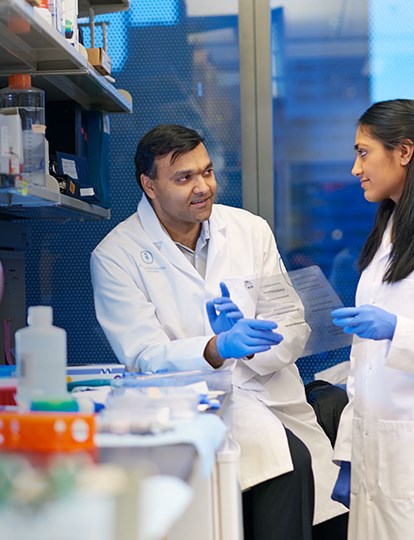 Human Oncology and Pathogenesis Program
Since its inception, the Human Oncology and Pathogenesis Program (HOPP) at Memorial Sloan Kettering has set the precedent for translational cancer research institutes across the country. HOPP was the first program of its kind to bring together investigators with strengths in both laboratory and clinical research under one roof. Positioned at the forefront of both research worlds, HOPP investigators are uniquely situated to bridge gaps between the basic science and clinical care. HOPP's research programs span multiple cancer types, and its scientists employ innovative technologies, redefining how we find, develop, and test new cancer therapies. The program also supports graduate and postdoctoral training for physicians and scientists who want to serve at the cutting-edge of translational cancer research.
HOPP faculty accept graduate students from the Gerstner Sloan Kettering Center for Biomedical Research, and postdoctoral research fellows. Early-career postdoctoral fellows are eligible to apply for the HOPP Translational Research in Oncology Training (TROT) Program and other internal award funding. Our members also have a variety of opportunities to mentor young scientists from New York-area high schools and colleges, including a summer enrichment program and career development programs for underrepresented minorities in the sciences. There are dedicated staff who assist with HOPP training programs, lab safety compliance, financial reporting, and pre- and post-award grants management.