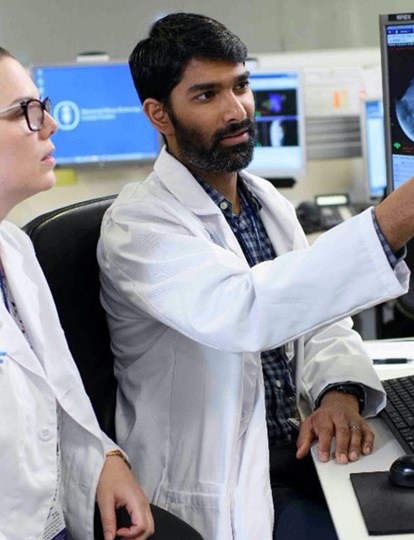 Advancing Science and Technology to Transform Care
The Department of Medical Physics at Memorial Sloan Kettering advances the science and technology of radiation oncology, molecular imaging and therapy physics, X-Ray and magnetic resonance imaging, and informatics to enhance patient care.
Our medical physicists, physical scientists, biomedical engineers, and other specialists are developing personalized ways to predict cancer risk, improve radiotherapy, and ensure the safe use of radiation by patients and staff.
Our department has a long history of innovation to advance clinical and academic programs. We were the first institution to implement intensity-modulated radiation therapy (IMRT), now a standard treatment approach worldwide.
Our physicists and physicians also continue to develop image-guided radiation therapy (IGRT), advanced brachytherapy (implanted isotope) methods, quantitative imaging with positron emission tomography (PET) molecular imaging, and a range of new applications for MRI, while maintaining a standard of quality excellence.
Bring your skills to MSK, where you can help us leverage our technology and expertise to create new techniques for detecting and fighting cancer.